The story, Trucker's Girl, opens in the bedroom of our first hippy truck driver, and as his wife awakens, she walks to the dresser and notices the magazine with an article about men stepping out on their wives, and she appears troubled, knowing that in order to keep hubby at home she must supply his wants and desires. We see her do this as she gets back into bed and makes love to her husband.

The story then travels to a hotel room, where our second truck driver is having a ball with his favorite prostitute. When he leaves her, she falls into the clutches of a sadistic bell hop, and we see a wild fight and explosion of emotions as he rapes her with a cherry crush bottle.

There is much humor released as we follow our truck drivers on the road. When they stop at a road house, we find another truck driver who gets his kicks watching two girls make the sex scene. These scenes become quite involved as our truck driver can't help but participate.

We then find our second truck driver in a sleeping room with a young doll, only to find she is a virgin which causes complications with his partner the first truck driver.

All in all this picture is "Hotter and Stronger" than the usual in this market. A good story line with good actors and all new faces.

CAST

Constance Sirifem
Luann Cox
Eugene Wilkins
Lee Baker
Eddie Levine
Sterling Eilert Iii
Lennie London
Angel Aibright
Item Details:
pressbook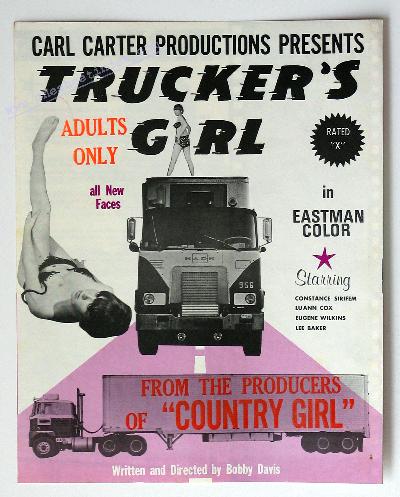 Member login required.