THE TEENIE SWAPPERS - Teaser Storyline

Marcia and Georgie are both 18, both female. This alone assures them success in New York's swinging East Side "singles pubs". But their childish minds command fully mature women's bodies, and the apartment they share is famous as the scene of some of the wildest sexual depravity since ancient Rome. Naked bodies clash in sweaty embrace night and day as the teenie swappers blow their minds by driving their willing bodies to new heights of perversion.

Marcia is making it with her boy friend Fred when Georgie enters with her girl friend Sue. After the straight couple and the Lesbian couple fulfill each other's craving lust, they decide to switch partners for new kicks. Later on, the two roommates continue their experimentation, and add a few variations that leave the older generation in the shade. Things get rough as the sex kicks get more and more bizarre, until at last everything explodes in a free-for-all shattering climax that will leave you gasping!

Item Details:
pressbook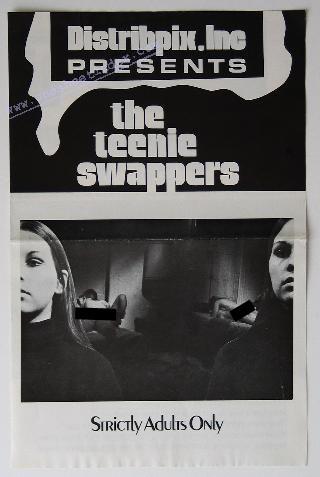 Member login required.