The picture deals with a young college student who wants to investigate and write a paper on sexual deviates. He decides that the best way to accomplish this is to place ads in underground newspapers and answer the replies to his ads that seem right. He also observes weird sexual goings on around New York City parks, streets and washrooms. He arrives at a girl's pad to find her body covered entirely with food-she thinks she's lunch. The motto for this episode would probably be "Eat And Be Eaten".

He encounters a shoe salesman who has devoted his life to finding the shoe he loves. He discovers a young lady in the throes of innocence and, while in the middle of a throe, she decides to become a member of women's lib and turns the tables on her antagonist to the tune of The William Tell Overture. Our overwrought researcher picks up a diversion at the nearest bar and discovers that he has fallen in love with more than he bargained for. He discovers a mortician who has fallen in love with a patient and cannot make up his mind whether he is Fred Satire or Don Juan.

In the meantime, lurking throughout the scene is our hero's greatest challenge, The Flasher, attacking all who cross his path, regardless of size, color, creed, gender, or what have you. The final scene brings all of these exponents of sexual deviation into one room, which promises to be the Olympics of all orgies, and our hero emerges as a subject for the next student's paper on sexual deviates.





HARRY REEMS
JAMIE GERMAN
HERB KAPLOW
ALAN ABLUE
BOB LIVIGNE
MARSHALL ANCHOR
MONICA RIVERS
LESLIE GAYE

Produced & Directed by BARRY KERR

Item Details:
pressbook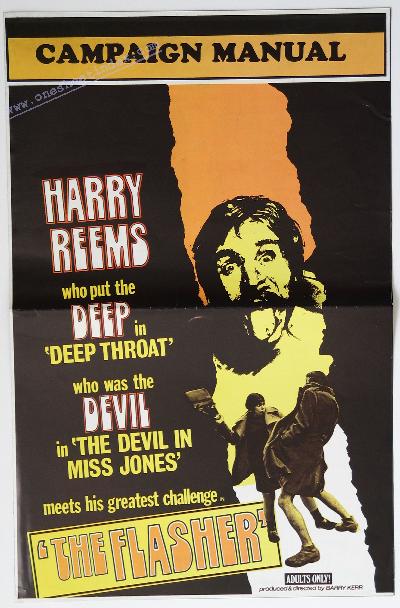 Member login required.