Teaser Storyline for "Pete's Pets"

As PETER cruises around Chelsea in his white 'E' type Jaguar his image is that of the affluent young carefree bachelor.

The Kings Road is notorious for its parade of beautiful birds and here he stops to pick up LISA, an Austrian au-pair. Duly impressed by his 'pad' she loses her head. . .and her virginity!

Thereafter PETER calls upon SUE, a sophisticated top model with whom he dailies in certain kinky pleasures, wealthy MRS. BEAUFORT-SMITH, very upper crust and living in grand style; CLEO, an African soul-singer with an unmatchable figure; SUPER TWINS who give him something of a surprise; CREAMPUFF, who has 'dropped out' of her society background and encourages him to share a joint with her . . . . And lastly, JENNY, the gentle unaffected girl-next-door who offers tea, sympathy, and love.

These are the varied and manifestly beautiful women who contribute to his sex life, all in a different way.

But as PETER returns from his glamorous and colourful world he is finally revealed in his true character.



starring

CHRISTOPHER MATTHEWS
YOLANDE TURNER
ANNABEL LEVENTON
ERIKA BERGMAN
VALERIE ST. HELENE
and
the PLAYBOY Twins MARY and MADELEINE COLLINSON

Written, Directed, & Produced by DONOVAN WINTER.



RUNNING TIME: 71 MINS.
Item Details:
pressbook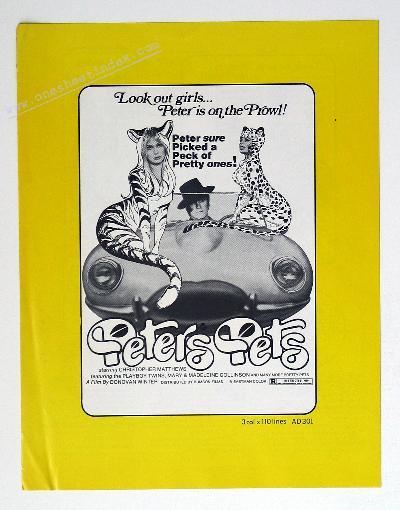 Member login required.