My Lover My Son


1975 Romy Schneider

In the humdrum existence she leads stage ("Under Milkwood" in London in a fashionable London suburb, Romy Schneider is tile attractive but disillusioned wife of successful businessman Donald Houston. But in the fertile world of her imagination she is the lover of their 17-year-old son Dennis Waterman, who she sees as the image of her dead lover.
Such is the premise of MGM's "My Lover, My Son," the suspenseful psychological melodrama of a wife-husband-son triangle.
Although physically too young to really be the mother of a 17-year-old son, Romy didn't let this stand in her way for the film. Relying on her acting talents, which have been praised by eminent directors she has worked with such as Luchino Visconti in "Boccaccio '70," Orson Welles in "The Trial" and Otto Preminger in "The Cardinal," Romy successfully convinces the audience of her role. Her most recent roles have been as a secret agent with Tom Courtenay in "Otley" and as the journalist mistress of Alain Delon in the French hit "La Piscine."
Her co-star Donald Houston,

an outstanding name among England's legion of distinguished and versatile acting talents, conies fresh from his part as a castle-crashing commando with Richard Burton and Clint Eastwood in MGM's "Where Eagles Dare" Of Welsh descent, Houston glides easily back and forth between the movies ("Room at the Top," "The Longest Day"), the and New York, the Old Vic, the original cast of T. S. Eliot's "The Cocktail Party") and British television.
Two rising young British stars also have key roles in "My Lover, My Son." Dennis Waterman, who after a background of television and stage has made a fine impression in motion pictures, most memorably as Suzy Kendall's jail-bound boy friend in "Up the Junction," has the difficult role of the son who is trying to escape from his mother's domination.
Patricia Brake, making her film debut after successful engagements in television and theatre-repertory, Old Vie, London's West End, plays Dennis' girl friend who contends silently with his mother for his affection.
Producer Wilbur Stark, a man with many years of exceptionally versatile television production, coupled his own short story "Second Level" with Edward Grierson's novel "Reputation for a Song" to come up with the absorbing story for "My Lover, My Son." A master of the female psyche, Stark feels that women will be able to empathize greatly with Romy Schneider in the film.
Director John Newland has used new techniques of color and editing to probe the mind of a woman in "My Lover, My Son." Locations in and around London such as the chic discotheque Annabel's, the Regent's Park Zoo, Berkeley Square, a houseboat in the Thames, private strip clubs in Soho and rambling country estates were all used by Newland to obtain the right effects for this probing film in Eastmancolor arid wide-screen.
Based on "Second Level" a story by Wilbur Stark and the novel "Reputation for a Song" by Edward Grierson.
Songs: "I Want the Good Things," lyrics by Sue Vickers and Billy White; "What's On Your Mind," lyrics by Sue and Mike Vickers and Norrie Paramor; "Summer's Here," lyrics by Sue and Mike Vickers.



Item Details:
Pressbook 12x16 single-sided folded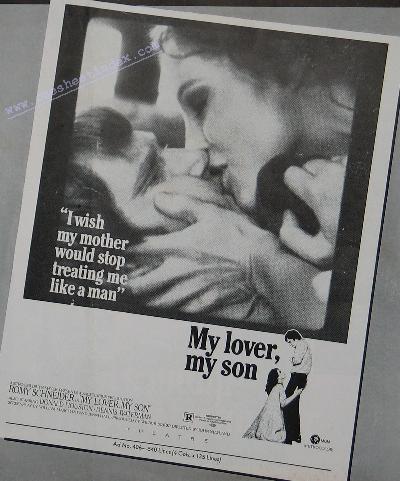 Member login required.