Love Cycles


1965 Elena Nathanael

Elena (ELENA NATHANAEL) and Vassilis (THEO ROUBANIS) were childhood sweethearts. They are ideally married, Elena working as a successful fashion model, and Vassilis having achieved status as the master of an ocean-going freighter.
While Vassillis is away, Elena lives with her mother, Marianthi (JDESPO), insane from the loss of her son during the War. The pitiful woman exists between reality and fantasy, wandering aimlessly in a tortured dream, hopelessly seeking first her dead boy and then her daughter.
Vassilis returns from sea, and he and Elena, to escape Marianthi's grief and enjoy their happiness together, leave to vacation at the sea shore resort-hotel where they spent their honeymoon. Except for the manager, Alexander (SPYROS FOCAS), the inn is deserted. Immediately, a powerful physical attraction between Elena and Alexander becomes apparent.
Elenao is torn between her love for her husband and an almost overpowering desire for Alexander. She begs Vassilis to take her away, and tries to explain her torture: "When I kiss you, I feel his lips. When you hold me, I'm in his

arms."
Vassilis explodes at his wife's confession. He becomes violent at the thought that she could be attracted to another man. Vassilis tells Elena of his "girl in every port," strikes her, and rushes from the hotel to return to Athens. Elena, left alone with Alexander, is quickly overpowered by her own sexual desires. First unwillingly, then eagerly, she is drawn and gives herself to him.
Grief-stricken and ashamed, Elena tries to break with Alexander. She goes home to Vassilis, who refuses divorce and takes her back. She has become more attractive and desirable now that he knows of her lust for another man.
Alexander will not leave Elena alone. He follows her and intrudes constantly between her and Vassilis, continuing to exert his animal attraction, pulling Elena to him whenever possible. Alexander's lust has turned to love, and, in the hope of having Elena forever, he imposes more forcefully upon her, and makes his advances more obvious, even degrading, to Vassilis, who stands by helplessly.
Finally, Vassilis reacts. Relying on Elena's love for him, he tells her to break with her lover once and for all, put Marianthi in a home to be properly cared for, and come to the ship to sail with him and recreate their happiness as husband and wife. Elena, finally realizes the disgrace of her relationship with Alexander, and her true feeling for her husband, does just that, but not before Alexander has taken her, "just once more".
At last, Elena tears from her lover, and goes eagerly to sail with Vassiis. She meets her husband at the ship and tells him that she has done what he had asked, and thtat she is through with Alexander. Vassilis listens, then explains to her, that when he took her back, he planned his revenge every step of the way. As a captain, he has beaten the sea, again and again, and now, as a husband, he has beaten his unfaithful wife and her lover. He does not want Elena. She is free to do as she chooses. As the captain, Vassilis turns to his ship and gives orders to sail, as the husband, he leaves his wife standing on the pier.. alone.



Item Details:
Pressbook 17x22 single-sided folded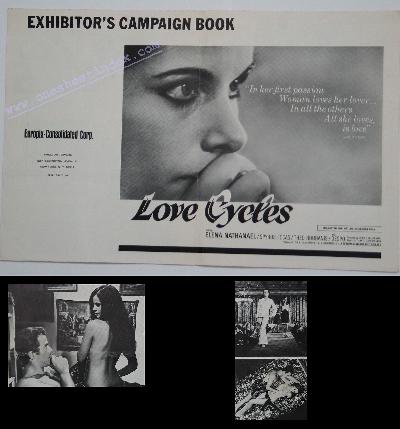 Member login required.