Is There Sex After Marriage


1969

Susan and George Harris live with their 5-year-old son in a spacious, modern, $100,000 home, complete with swimming pool. They have been married for six years and appear to have a happy, normal, uneventful marriage.

But there are signs that all might not be well as Susan thinks of how hard she works in the home and George notices that she is beginning to look like an old maid. George's partner, Angie, is convinced that George is a square but tries to get him to come to his apartment for a wild party. George declines as Angie had anticipated. But he does go to see a nudie film with Angie during lunch.

George arrives home to find Susan in the midst of her chores and their son gone to camp. All alone and feeling daring, George undresses and mixes two martinis. Susan is repulsed by George's sexy mood and doesn't feel it's the "right time and place." Their quarrel ends with Susan storming off to the bedroom. George follows her and rapes

her-after all she's his wife. Susan is enraged and George feels ashamed and rejected.

The next day, Susan tearfully tells all to her friend and neighbor, Martha. Martha, a middle-aged, well-endowed, over-sexed woman, is fascinated. Later, Susan tells George what the conditions of their sex life are to be-he may make love to her when and where she deems proper. He leaves her and calls Angie. He has decided to take him up on his promise of a wild party.

Meanwhile, Susan answers the door at home and finds Kelly Waring, a super-stud, well-dressed and suave. He is there to meet Martha. When Martha arrives she explains that Kelly is a marriage counselor, of sorts. He teaches women how to be sexually exciting to their husbands. Susan is, of course, shocked and takes a drink.

George and Angie have been joined by two hookers, Julie and Cindy. Julie finally succeeds in arousing George by doing a sensual strip-tease. Since promiscuous behavior is so unusual for George, he thinks he is falling for Julie. To convince George that these girls are just to be enjoyed and not taken seriously, Angie has them perform a lesbian act.

Exhausted after his activities with Julie, George arrives home to find Susan in a seductive mood. He makes love to her quickly and promptly falls asleep, leaving Susan to fantasize about love-making with Kelly.

The next day Kelly and Martha visit again. After a few drinks Susan allows them to put on a sexual performance for her. All during their sex act, Kelly gives very graphic instructions about everything they do. Repulsed and stimulated at the same time, Susan can take no more and heads for the bar. Kelly soon follows and kisses her passionately. Not wanting Kelly to go any further, Susan agrees to let him continue his performance with Martha while she continues to get drunker.

At the office, George's guilt mounts because of his cold treatment of Susan the night before. He goes home where she is waiting for him in a sexy see-through dress. He picks her up and carries her to the bedroom. Slowly and sensuously they undress each other and make love. After it is over they wonder why they ever had a problem. Then George tells her that Angie had recommended a sex expert named Kelly-but they obviously didn't need help. They run out nude and jump into the pool-a final sign of Susan's liberation.



Item Details:
pressbook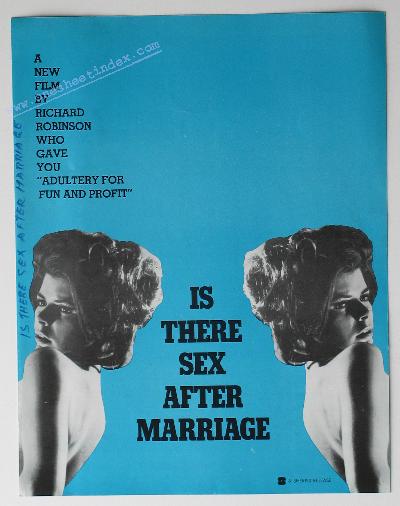 Member login required.