signed for starring roles in four forthcoming films.

An American actor, Tom Scott, plays the part of the black medical student in Copenhagen who discovers that intolerance and bigotry are not confined to a geographical region. And he learns too that in helping the daughter find her way to fulfillment, he too achieves ultimate happiness.

Twenty-seven year old Scott, a graduate of Ohio State University at Columbus, Ohio, is a veteran of U.S. television, having appeared in a number of running parts on daytime serials.

Sleek and beautiful Ellen Faison plays the lesbian go-go dancer vying with her brother (played by Scott) for the daughter's affection and ultimately the mother's. Born in Guadaloupe and raised in the United States, Miss Faison performs in the love scenes with an unabashed candor and passion remarkable even for a Danish film. One of the world's top black models, she prefers to work in Paris and New York.

"The Daughter (I, A Woman, Part III)" is a compelling inter-racial love story set in present day Copenhagen. Magnificently photographed in color, the opening shots of a female narcotics addict coming out of a bad trip are among the finest camera studies ever made on this subject.



The screen explode8 with bursts of color and erotic vision. A young nude blond, in a narcotics-induced ecstasy, experiences a phantasmagoria of wish-fulfillment and sexual fanta8y.

A scream pierces the sound track. We now see the youthful addict in a hospital emergency room coming out of a bad trip.

Chief nurse Siv (GUN FALCK), her doctor friend, Leo (KLAUS PAGH) and a young medical student, Stephen (TOM SCOTT), an American Negro, are working over her. Siv, who has a daughter the same age as the addict, is visibly disturbed. However, Leo and Stephen work efficiently and professionally.

Later that night at Siv's apartment, Leo maintains that doctors and nurses must not get emotionally involved with their patients. The way to forget, he declares cheerfully, is to open a bottle of Scotch, shed your anxieties along with your clothes and make love.

Siv's 17-year old daughter, Birthe (INGER SUNDH), arriving home from her school in Switzerland earlier than expected, finds her mother naked in bed with Leo.

After discovering further evidence of her mother's sexual emancipation, pornographic devices, a record of erotic sounds, as well as provocative photographs of Siv in the nude, Birthe, revulsed, flees to a hippy discotheque.

Stephen, keeping an eye on his sister, Lisa (ELLEN FAISON), who works at the club as a go-go dancer, recognizes Birthe as an outsider, like himself. But before he can engage her in conversation, she is picked up by Max (BENT WARBURG), a longhaired hip pie.

A fight ensues between the hippies and a group of Hell's Angels. Two policemen walk away from the bloody riot, unseeing.

Max brings Birthe to a hip pie pad in a condemned tenement. Assorted types are singing, playing guitars, smoking hash. Some have removed their clothes and are engaged in loveplay. "Forget the older generation with their hang-ups of money, war and violence," says Max, offering her hash. She is beginning to feel at ease with the flower people of her age, but when Max tries to force herself on her, Birthe, the scene with Leo and her mother still vivid in her mind, fights Max off. Her bag falls to the floor and a nude photo of her mother drops out. Birthe is accused of being a lesbian.

She fights to get the photograph back from her tormentors. Stephen suddenly appears at the door, sees her desperation, and rescues her.

Birthe is near hysterics. Stephen, at the apartment he shares with his sister, tries to shake some sense into her. The noise awakens Lisa, who misjudges the scene and thinks Stephen is trying to rape the girl.

Birthe sleeps in Lisa's bed. Stephen announces that he is in love with Birthe and wants to marry her. "Have you forgotten you're-a black man," remonstrates his sister.

Next morning after a shower Birthe feels better. Semi-nude, they both talk over breakfast. Birthe has no use for men; they are too vulgar and brutal. Lisa is a lesbian, declaring she does not choose to bring a black or mulatto child into the world. Birthe, an easy victim of Lisa's psychological tricks, is taken to bed. They make love.

Next night at the discotheque, Stephen is with Birthe, who only has eyes for Lisa. Max begins a fight with Stephen. This time the Hell's Angels join with the hippies against the American Negro.

At the apartment Birthe is shaken by her first experience with racial discrimination. Stephen says he is used to it. She speaks tenderly to him. He tells her of his love for her. But when Lisa returns home, Birthe flies into her arms.

Later in bed, Lisa suggests an erotic triangle with the two of them and Birthe's mother. Birthe, for the first time seeing what a fool she has been, grabs her coat and runs out to find Stephen. They begin a tender, passionate relationship that ends in marriage.

After the ceremony, Leo comes to Siv's apartment to resume where they had left off. He is surprised to find Siv in despair.

"I've always thought of myself as a, tolerant person," Siv explains. "He's intelligent. loving, considerate. He will do everything to make her happy. But - she is my daughter and he is black.

Stephen and Birthe, locked in each other's arms, secure in their love, know that though they will face the world alone, they will succeed!
Item Details:
pressbook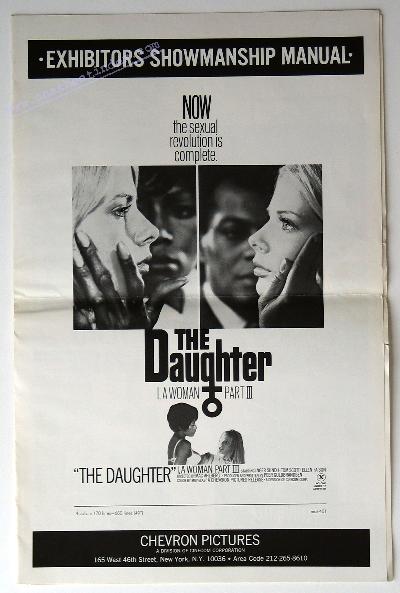 Member login required.