How's Your Love Life


1970 Leslie Brooks

Teaser Storyline for How's Your Love Life

Jack Romanti (RUSS VINCENT) runs a peculiar theatre-club in Hollywood where he gives scholarships to youngsters seeking to get ahead in the entertainment industry and who pays for this through admissions to the public performances and also contributions from sponsors. But it is the behind-the-scenes entertainment which intrigues the "participating" sponsors, both men and women, for they have free access to the students, via appointment, to satisfy their sexual whims.

Into this situation stumbles Kim (STORMY UHL) who has been given a scholarship. She is a naive virgin, fearful that she is turning Lesbian. Aiding Romanti in his enterprise is Dr. Maureen John (LESLIE BROOKS), a psychiatrist who advises her patients with sex hangups to join Romanti's foundation and becoming participating members. Chief assistant to Romanti is Linda Roberts (MARY BETH HUGHES) who in addition to acting as wardrobe mistress helps him in the running of the organization and who herself has a yen for Romanti.

On the sidelines observing all of this is

Lieut. Rafferty (JOHN AGAR) of the Los Angeles Police Department who, suspecting blackmail and worse, tells Romanti that "Some day you're going to fall and I'm going to be there to catch you."

Another assistant to Romanti who also has a craving for him is Jane (LINDA JEAN HILL) who at first is content to stand in the background while Romanti makes his plays for the various women who come under his influence. Jack's real ambition is to become a motion picture director and that is one of his hangups. He shrugs off his sexual prowess and that of his "students" with "Everyone has hangups. I'm performing a service."

The fact that he is acting as a pimp does not occur to him. The only goad to his conscience is Blackie, a mynah, who is extremely precocious and worldly and whose comments are both humorous and irritating.

Jack exhibits compassion when Kim experiences a Lesbian activity with one of the patrons, Mrs. Courtney (LOIS URSONE), and finds that she believes herself normal. He demotes her from the show and puts her in the checkroom. He has a mad affair with Judy (SHERRY MILLS), a married woman whose husband has for months failed to satisfy her. She is killed by a Peeping Tom and Jack is arrested for the murder, only to be exonerated when the real killer Tim (MICHAEL WEST) is captured. At that time, Lieut. Rafferty, releasing Jack, says, realizing that the operator of the theatre-club may be doing a service, says: "You're a like-able bastard."

Meanwhile, Jack has directed the test of a young student of his, Rick Stewart (RICK COOPER) with Sharon Miller (JOHNNIE "DIXIE" UHL), wife of film producer Paul Miller (GRANT WILLIAMS). It is a success, and Rick moves in with the Millers to get acquainted and learn his part. After a series of so-called get-togethers between Sharon and Rick, Paul discovers them making love and cancels the picture, including his promise to Jack that he would get his chance to direct the film. However, after a session with his over-sexed wife, Paul, who had fears of having become a latent homosexual, changes his mind: Rick and Sharon are to star, Jack to direct.

Jack returns to the theatre-club and later is confronted by Jane who has been willingly and presumably gratefully removed from her virginity by a male "participant." She tells him, "I don't feel like a deprived whore any more. I really enjoyed it."

His world crashes - for he has begun to think that this virgin had been the only thing for him. Jack is told the news by Paul that he will direct the upcoming film with Sharon and Rick as the stars.

And, as Dr. John who is still nurturing her like for him, tells him: "Maybe it didn't work out the way you wanted it to. But it's for the best."

And Blackie, the bird, agrees.



Item Details:
pressbook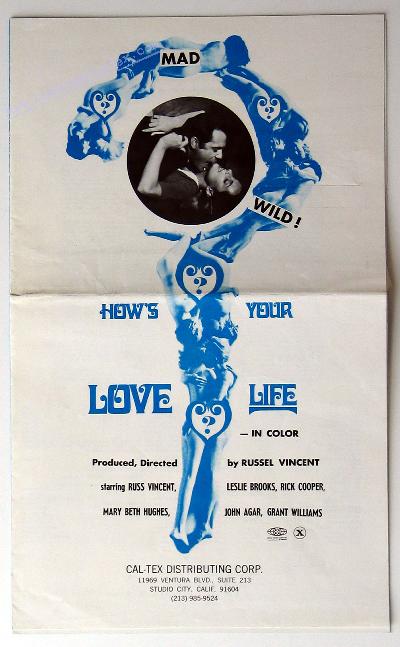 Member login required.