to work with her clothes off. Marsha is summoned and before long Harry is peeking-in on one of the funniest and most erotic orgies ever filmed. Mr. Bennett and Marsha use the inexperienced Yolanda in every conceivable sexual way, relishing her naivetee as they bring her to the depths of depravity. This experience only adds to Harry's frustrations and by the end of the work day he is ready for the funny farm.

While Harry is waiting for the bus he is met by a somewhat magical fellow dressed in top hat, tails, white gloves, and - bare feet! This interloper is strangely interesting to Harry although he can sense a certain danger about him. Nevertheless, he allows himself to be led away to a nearby park.

This man introduces himself as the Magician and offers Harry a little pill which, in his words, "...will make all your dreams come true." Then he simply disappears and Harry is left standing alone in the park holding the little red pill!

At home it is the old routine of a rather tasteless dinner alone, a can of beer, and a boring movie on television. In utter disgust with his existence Harry takes the pill! And the pill is all that is needed to release Harry's 'demons'. Young and beautiful, each one has her own special brand of temptation and depravity. DO IT is there to "help". And help she does in her own inimitable way until things come to the breaking point for Harry and then she - DISAPPEARS!

But DO IT is only the beginning. DELICIOUS appears on a bed of ferns, apple in hand and ready for anything. Once again Harry is persuaded, and once again she is gone at the most crucial time. Harry is beginning to lose control. But before he knows it SHOW ME is there with her cigarette holder, satin cape and whip. This is the ultimate submission for Harry and it is a wonder that he is able to survive.

RIGHT GUARD is sent by the Magician to help Harry learn to deal with his illusions (or his reality) and it is in the bath tub that she is able to bring him over the edge (literally). With his first real success, Harry begins gradually to change. From a timid, shy introvert, to a confident sexist directing an entire troop of sexual players. DO IT, DELICIOUS, SHOW ME, and RIGHT GUARD are all finally under the control and direction of the benevolent dictator - Harry The Magnificent! But what about the Magician?

Well, he's back at the end to inform Harry that he can't do it on his own - that Harry will need him again. And what is Harry's reaction to this? You guessed it. He tells him to clear out. He'll take his chances with his newly acquired beauties and powers, even if they are real only to him. And so the Magician has no alternative but to leave.

As the picture fades out, Harry is in the middle of his bed surrounded by four of the most beautiful women anyone could ever dream of, happy with the knowledge that for the first time in his life he came out on top!!



Item Details:
pressbook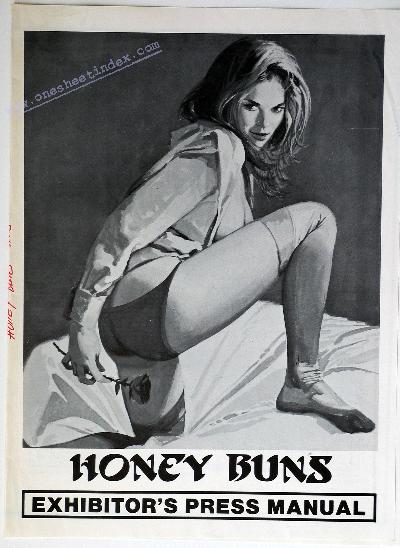 Member login required.