willing participant in the seduction act. After many difficulties, Monica finally manages to get into bed with him. At the critical moment Fanny, with a lawyer, a photographer and a secretary in close support, bursts in on them. What they see almost makes them forget what they came for, but not quite. Fanny has her evidence.

The two girls start off on their trip around the world. From a cold and wintery Stockholm they arrive in the temperate climate of Los Angeles, where they start hunting movie stars, of male sex, naturally.

Outside a motion picture studio Fanny almost runs down William, an imposing looking man with a black beard. William, an actor, is far from pleased at nearly being knocked base over apex.

Later that day, at a party, Fanny inadvertently switches off the TV, just as William, surrounded by sycophantic friends, is admiring himself on the miniature screen in a sequence from Shakespeare's "Julius Caesar." William, recognizing Fanny, is furious. To make amends, Fanny brings him a drink by the side of the pool. The unfortunate William steps on an ice cube and falls into the pool. As Fanny tries to help him out, he, vengefully and deliberately, pulls her in.

Both soaking wet, Fanny, with feminine wile, persuades William to take her back to his hotel to dry out. Much against his will, William is enticed into bed. The following morning, wandering aimlessly about the room in the nude, Fanny is surprised by Peter Wilde, a film director, bursting into the room, loudly calling William's name. Suddenly Peter catches sight of Fanny. He gets wildly excited. He is convinced that he has found the star for his new film~ William tells him that he believes Fanny is a Swedish actress.

Fanny is rushed off, protesting, to the studio where the casting director, the publicity manager and Pomodori, the producer, are all individually and collectively, greatly excited. Fanny, with no acting experience, is very doubtful about signing a contract, but she finally yields, mainly to ease the pressure exerted by the movie tycoons.

In Stockholm, meanwhile, Roger finds out what Fanny is up to in Los Angeles from a "society spice" magazine. The article is complete with nude photo. Without delay Roger leaves for Los Angeles, where he finds out at which studio Fanny is working. Posing as a newspaper reporter, he turns up at the studio just in time to watch Fanny in a torrid bedroom sequence.

When Monica tells her that Roger is there, the naked Fanny is panic stricken and flees off the set down a corridor. A number of musical instruments are standing up against the wall. Hearing voices approaching, Fanny hauls a bull fiddle out of its case, jumps in and closes the lid. The voices belong to two porters who are to take the instruments away to a society cocktail party and charity benefit. Meanwhile, at the studio, to everybody's consternation, Fanny has vanished off the face of the earth.

At the reception, the studio publicity man is at his wit's end because of Fanny's disappearance. The orchestra is already on the platform and the committee man is starting his inaugural speech. Just as he comes to the words "special surprise," the bull fiddle player flings open his case and Fanny, in all her nudity, leaps out. A gasp of surprise from all present, followed by cheers, applause and laughter. Pomodori almost swallows his cigar and, thinking it a publicity gimmick, registers the utmost satisfaction. A grinning cab driver takes Fanny, by now tastefully draped in a table cloth, back to her hotel.

The following morning, Fanny is interviewed by the press. During the course of the interview, Fanny gives a d~tailed and highly imaginative description of the permissive sex life of the Scandinavian woman. This goes down in a big way with the assembled journalists.

That evening, in Fanny's hotel room, she enjoys supper with Roger and there are signs that her old love is beginning to blossom again.

For his part, Roger has never really stopped loving Fanny. Roger is still asleep when Fanny awakens the following morning. As she is due to leave for Hong Kong on location, and she does not want Roger along with her, she pinches all his clothes and sends them to the laundry and cleaners.

In the Tiger Balm Garden, in Hong Kong, Peter Wilde is shooting a love scene with Fanny. He demonstrates with her what a passionate kiss really should be like. It is so effective that it turns Fanny on and she invites him to "drop up tonight and let's rehearse some more." To which Peter replies "Redheads don't turn me on. They remind me too much of my first wife."

Roger has wasted no time in following Fanny to Hong Kong. In his efforts to find her there, he stumbles on the location. He does not realize what is going on. He only sees Fanny being kissed passionately by Peter. Boiling with rage and jealousy he goes away. In his confused state of mind he buys a pistol.

That evening, for a script conference, with Peter Wilde, Fanny wears a black wig and she has made a strategic application of black hairspray, though the latter is not immediately apparent. Peter is impressed. Just as Fanny and Peter are getting down to serious love making, there is a knock on the door. It is Roger ...
Item Details:
pressbook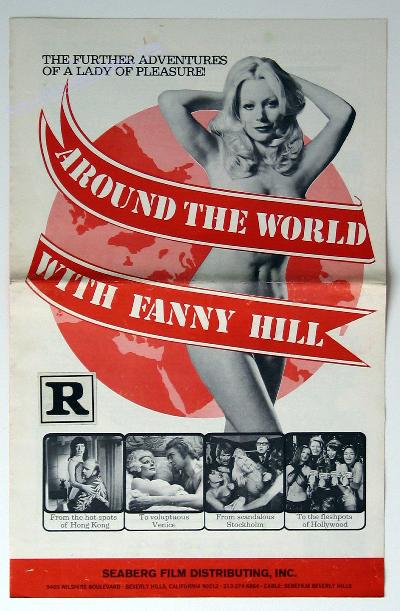 Member login required.