Daddy's Gone A-Hunting




Mark Robson, the director-producer who takes great pleasure in creating motion pictures that are "audience-pleasers," has done it again. The man who helmed "Peyton Place," "Inn Of The Sixth Happiness," "Von Ryan's Express" and "Valley Of The Dolls," among others, has a new film under his wing. It's an out-and-out thriller in color for National General Pictures called Daddy's Gone A-Hunting starring Carol White, Paul Burke, Mala Powers, and introducing Scott Hylands. Do audiences like being frightened? "They seem to enjoy it," Robson says. "A good thriller is always successful. But I'd like to emphasize that this is is a thriller film, not a terror film. Terror pictures have bug-eyed monsters and/or a lot of gore. Thrillers are more subtle.

"There's lots of action in 'Daddy's Gone A-Hunting' but that's not all. It's a fascinating story about people you care about. Namely an English girl who comes to San Francisco and falls in love with a ne'erdo-well. Later she happily marries another man and is then tormented by her first love in a

most unusual way." That's all Robson will volunteer about the plot. In fact, he thinks the basic premise of the story so novel he has kept the script under wraps and asked cast and crew not to synopsize the picture for anyone outside the company. "It's a very fresh idea, an original screenplay by two young writers, Larry Cohen and Lorenzo Semple, Jr.," he states. "They had the courage to sit down and write their story idea into a finished screenplay, something not done too often around Hollywood these days. So much of what goes on the screen now is adapted from books, the stage and even TV. "Anyhow, it was such a good script there was quite a lot of bidding on it, everyone wanted to do it. I was put onto it by National General, the company who backed me in the project."

For his players, Robson chose an off-beat combination: a British beauty who has never before done a film in Hollywood (Carol White), a leading man rather recently converted from TV (Paul Burke) and a young stage actor making his film debut (Scott Hylands). "A talented trio," Robson muses. "Paul worked with me in 'Valley Of The Dolls,' I thought Carol brilliant in 'Poor Cow' and in the test I made with Scott he exhibited a spirit that popped right off the screen. He has the potential of becoming a great movie star." Hylands, incidentally, plays the role of Miss White's discarded-and disgruntled-lover. For Robson, directing Daddy's Gone A-Hunting is a sort of "homecoming." When he began his distinguished directonal career, having graduated from film editing, he "specialized" in thrillers. Lately, of course, he's known for putting best-selling novels on the screen. (Peyton Place alone got nine Oscar nominations.) "Making 'Daddy' was fun, a complete change-of-pace," he declares. "It's a special thing, this building suspense. What was particularly encouraging was that even the crew was startled during some of the scary sequences in spite of the fact they knew what to expect." Probably the "thrillingest" scenes are those on the pinnacle of the Mark Hopkins Hotel in San Francisco, the first time a motion-picture company has ever filmed up there. That's the locale of the last nerve-twanging confrontation between Miss White and Hylands.

The excitement-packed drama stars Carol White, blonde British beauty, who won the designation of "best actress" at recent British and Czechoslovakian Film Festivals for her lead role in "Poor Cow." Co-starring is Paul Burke, who starred in television's "Naked City" and "12 O'Clock High," and who was in the film hit, "Valley Of The Dolls." Attractive newcomer Scott Hylands, who is destined for stardom, makes his debut in the film.

Director-producer of Daddy's Gone A-Hunting is Mark Robson, who was responsible for such film hits as "Peyton Place," "Von Ryan's Express," "Valley Of The Dolls," among others. The original screenplay is by Larry Cohen and Lorenzo Semple, Jr.
Item Details:
1-Sheet Folded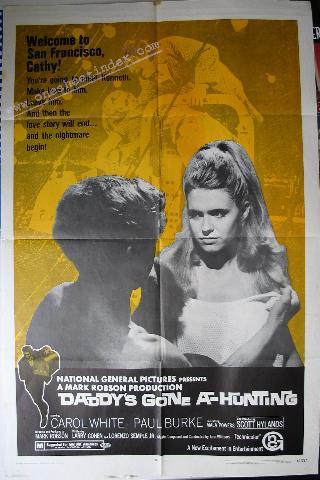 Member login required.