A mobile home traveling along a deserted California highway picks up two young girls apparently stranded. The girls are part of a stable of prostitutes. Their employer, a bandleader among other things, has sent the girls as a diversion, as he is about to be ejected from the club at which he is currently appearing. The two young musicians traveling in their mobile home to replace him must be stopped, or else his extra source of income at the club will end.

The girls entice the young musicians to go for a quickee campout away from their vehicle, which is then disabled by an associate of the bandleader. After a sex-filled interlude, the young musicians repair the girl's vehicle, and then arrive at the club late. In the interim the club owner has re-hired the bandleader, who then offers the boys a spot in his band.

Each evening the girls employed by the bandleader discharge their sensual duties at the motel across from the club. Meanwhile the young musicians fall in love with the two girls. Passionate and tender love scenes abound between the couples. The girls, desperately in love with the young musicians, attempt to break away from their bandleader boss. In the ensuing action the bandleader violently rapes and murders one of the girls. Upon finding this out, the enraged boyfriend savagely attacks the bandleader and turns him over to the authorities.



CAST

RENE BOND
RICK LOOTS
SANDY DEMPSEY
JOHN PAUL JONES
MARIE ARNOLD
LOUIS GENO


CREDITS

Executive Producer ...................... MICK HOLLAND
Producer ...................... RICK ROBERTS
Director ...................... LEW GUINN
Music by ...................... RICK CLARK, DAVE NORRIS


Click here for more
Item Details:
Stills 8x11 single-sided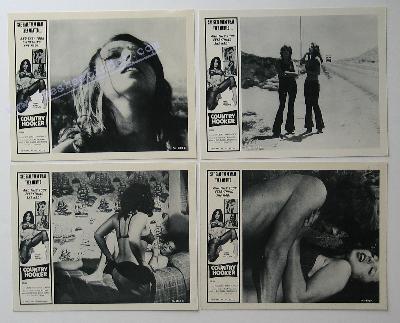 Member login required.