Anybody Anyway


1970

While strolling through the countryside, Mr. Bradley hears the distant sounds of rock and roll music which leads him to a deserted barn. After investigating, he discovers about a dozen young people carrying on with dancing and all kinds of love making. To get a better view, he climbs up on the loft and finds a beautiful young girl being forcibly raped. This is Ann. He rescues her, and in her gratefulness, Ann invites him to join the party and meet her girlfriend, Terry.

After he leaves the barn party, we see Mr. Bradley making arrangements with his hired hand, Freddy. Freddy is to empty the gas tank of the girls' car.

When the girls find that they are stranded, they ask the help of Freddy, who just "happened" along. Freddy instructs them to the isolated home of Mr. Bradley.

Acting surprised to see them, Mr. Bradley invites them in to his very old and sinister looking home and introduces them to his loving sister, Myra. With no transportation and a

"dead" phone, the girls are induced to spend the night. While in the guest room, they discover that the windows are barred, the door is locked, and other indications to make them realize that they are prisoners. Resigned to the fact that they can not escape until the next day, the girls retire to bed. We find here that Terry, after seeing Ann's lovely body, finds herself attracted to her. While in bed together, Terry attempts to make love to Ann, but is rejected. This leads her to use her own hand on her own body to get physical satisfaction.

At dawn the girls try to escape, but are captured and dragged off to separate rooms. Now they learn of Mr. Bradley's "love research" prompted by his life as a mortician. The years of seeing beautiful, but lifeless bodies, compelled him to search for the "ultimate" in a body full of life and love. He is assisted by his sister, Myra and the devoted Freddy.

After making love to Terry, while Ann is forced to watch, Mr. Bradley and his sister escort the girls to a basement dungeon where they are shown the well preserved bodies of three beautiful girls who did not cooperate; each girl posed nude, as lovely as if she were alive. Terrified, the girls make another attempt to escape, but to no avail.

Back in the "laboratory," Mr. Bradley rubs oil on Ann's body and prepares her for an "experiment in physical excitement." Ann, after showing fear and disgust, to her surprise, finds herself reacting to the physical pleasures of the "experiments."

In a final desperate attempt to get free, the girls stage a mock fight which draws Mr. Bradley and Myra into the room. During this unguarded moment, the girls overpower them and make their escape through a secret opening in the dungeon. Bradley, while searching for them, knocks over some lit candles in the dungeon and the flames start to lick at the old drapes surrounding the room. Myra and Freddy rush in to save him, but the flames lick higher. . . .

Item Details:
pressbook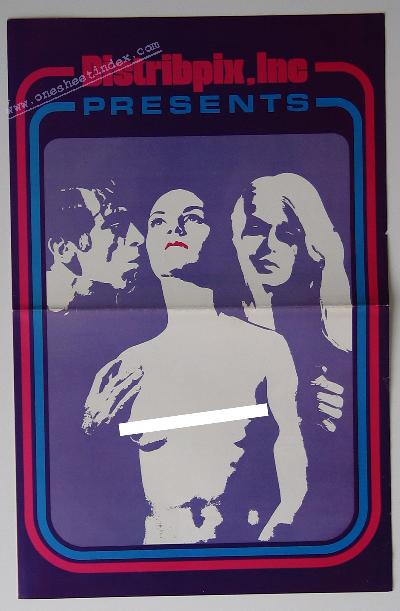 Member login required.