Empire of the Ants


1977 Joan Collins

Dangerous Ants Filmed for H. G. Wells' Empire of the Ants

Gigantic mutant ants attack Joan Collins and Robert Lansing and many others in American International's H. G. Wells' Empire of the Ants which opened in 1977. Actual ants were photographed with a specially-developed lens to make them appear larger than tigers. Danger surrounded the photography of the ants, which was done in Panama. The three-quarter inch Panamanian paraponera clavata ant was used. It is known as the warrior or bullet ant, because of the wallop of its sting. Extreme safety precautions were enforced to make sure not a single bullet ant got loose. According to entomologist Dr. Charles L. Hogue, technical consultant, "These ants, chosen for the film because of their ominous appearance, can be very destructive to humans. Their sting can cause severe pain, nausea, heart palpitations and interrupted breathing. Even death may result."

H. G. Wells' Empire of the Ants dramatizes the situation at a new seaside resort when the huge ants try to take over. Among

those endangered besides Collins and Lansing are John David Carson, Robert Pine, Edward Power, Albert Salmi, Jacqueline Scott and Pamela Shoop. Bert I. Gordon, who directed and produced the film, personally supervised all the ant footage shot in Panama. He is regarded as a leader in the use of magnified actual animals, as exemplified by his 1976 hit, AlP's H. G. Wells' "The Food Of The Gods." He wrote the screen story for Empire of the Ants and the screenplay was by Jack Turley. Some of the action in the Cinema 77 Film is seen through the eyes of the ants, as achieved with the Matex Prism Lens invented by Gordon. It shows 33 views of the same scene simultaneously.

Actors Brave Swamps and Alligators

"I've got scars all over," reveals actress Joan Collins as she tells about filming in American International's version of HG. Wells' Empire of the Ants . "Even at that, I'm lucky," says Joan. "Bert (Bert I. Gordon, producer-director of the drama) asked us to do things that actors usually don't. We were hip-deep in swamps. We did scenes where real, untamed alligators were within twenty feet. We were literally eaten a-live by swamp fleas and mosquitoes. And that was only a small part of it!'' H.G. Wells' Empire of the Ants dramatizes the plight of resorters on the southeastern coast of the U.S. when ants that have ingested radioactive waste grow bigger and more dangerous than tigers. It was filmed on location in remote areas of Florida, including Lake Okeechobee in the Everglades. The screen- play is by Jack Turley, from a screen story by Gordon. Joan says the other actors were as foolhardy as she. With her in the Cinema 77 Film were Robert Lansing, Edward Power, John David Carson, Jacqueline Scott, Albert Salmi, Pamela Shoop, Robert Pine and Brooke Palance. Gordon, who also produced and directed the recent AlP terror hit H.G. Wells' "The Food of the Gods," admits his players did participate in some "rather daring" scenes for Empire of the Ants He says, We shot the picture in sequence, so if the actors happened to incur injuries that had to he bandaged or couldn't be covered by makeup they would still seem logical as the story progressed. unfortunately there were a few little cuts and humps here and there." Joan Collins soberly says, "It's a terrifying movie and it was a really scary experience making it."
Item Details:
1-Sheet 29.5x43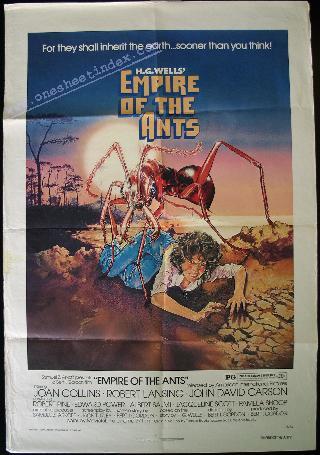 Member login required.