Set in medieval England before the accession of William of Orange when the Church - personified here by the "Bloody" Judge Jeffreys - held sway, the story begins with the burn-at the stake of a condemned witch who, with her dying breath calls on her daughters to avenge her against the three accusers at her "trial" - Lady de Winter, William Renfield and Judge Jeffreys himself.

Such is the power of the witches curse that no stone is left unturned to trace these daughters and they are soon found living as novices in a near by convent, from where they are taken to be subjected to every extreme of torture and degradation in an effort to brand them as "Children of She Devil". Not unnaturally, the daughters use every device to combat these methods and their lives become strangely involved with those of their captors.

Eventually it transpires that the forces of evil have indeed been handed down to Margaret, one of the daughters, and although through making full use of these she condemns herself to the same death at the stake, it is in this frightening, diabolical climax that she is able to complete her task of vengeance before, in her turn, passing on a witches curse to the fearful watchers.


THE DEMONS "X" Certificate G.L.C.

Starring

Anne Libert,
Britt Nichols,
Doris Thomas,
Karin Field.

Directed by Clifford Brown

Running Time: 97 Mins.

Length 8730 ft. Registration No. F376l9 Colour.

Item Details:
Pressbook 8x14 single-sided folded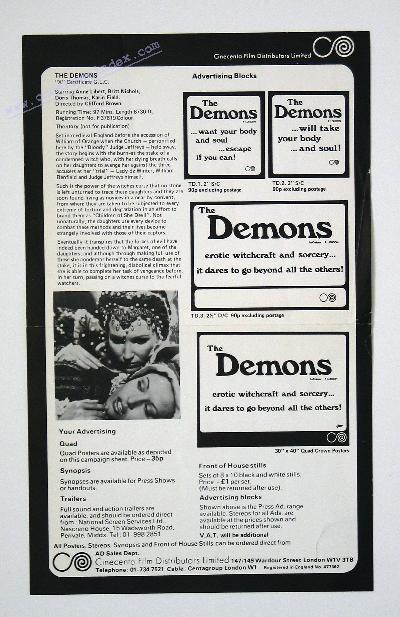 Member login required.