Chamber of Horrors


1966

In order to prepare audiences for the devastating experience of watching certain climactic horror scenes in its suspense-shocker Chamber of Horrors Warner Bros. has instituted a system of warnings. Just prior to four fright points in the film, squeamish members of the audience will be able to spare themselves serious nervous jolts by turning their heads and closing their eyes at the appropriate moments. For this purpose the film has been equipped with a Fear Flasher and a Horror Horn which will signal the approach of the fright points.

Chamber of Horrors is the action-oriented motion picture which brings to life the frenetic, though fictional, exploits of a sadistic killer who terrorizes Baltimore shortly before the turn of the century. He is the notorious Baltimore Butcher whose activity is centered around the House of Wax, a museum of demoniacal murders and murderers. Patrick O'Neal brings to the part all the experience and talent he demonstrated on the legitimate stage, on television and in prominent motion pictures. The wily amateur criminologist, Anthony Draco, who

stalks the demented killer, is played by international film star Cesare Danova. Danova's able assistants in his quest for the cruel killer are Wilfrid Hyde-White and Tun Ton. Hyde-White, who was Col. Pickering in "My Fair Lady," portrays Harold Cavernon Bloont, wax sculptor and crime historian. Tun Ton, who essays the role of the Spanish dwarf, Senior Pepe de Reyes, a partner in the operation of the wax museum, is one of Latin America's leading film stars.

The cast of Chamber of Horrors also includes some of Hollywood's most beautiful and talented leading ladies. Redheaded Suzy Parker has been called "the most beautiful woman in the world." Blonde Laura Devon was recently signed to a five-picture contract by Warner Bros. Blonde Patrice Wymore has been a topliner in numerous feature films.

The chills-and-thrills production also features Phillip Boorneuf, Marie Windsor, Jeanette Nolan, Inger Stratton and Ayllene Gibbons. Hy Averbach, former radio actor and announcer and television writer, director and producer, produced and directed Chamber of Horrors

What can a girl do when her mother persistently enters her in beauty contests against her will?

"Ignore it," says lovely Laura Devon whose first motion picture for Warner Bros., Chamber of Horrors has won her a five-year contract at that studio. Beautiful enough to get by on the basis of her appearance alone, the blonde actress, who uses her real name professionally, prefers to achieve success through talent. During Miss Devon's school years her mother sent the girl's picture to every type of contest. "It took me years of refusing to follow-up before she stopped," Miss Devon has said. Beginning her professional experience with a Detroit repertory theatre, she later spent a year improving her acting while under contract to a Hollywood film studio. She subsequently began a career in television, appearing on "Route 66," "The Richard Boone Show," and other top TV programs. A career in films followed. In Chamber of Horrors Mirs Devon stars with Cesare Danova, Wilfrid Hyde-White, Patrice Wy. more and Suzy Parker. Hy Averhach produced and directed the Technicolor motion picture. Upon completion of Chamber of Horrors Miss Devon was immediately cast in a top role in Warner Bros.' "A Covenant With Death."
Item Details:
1-Sheet Folded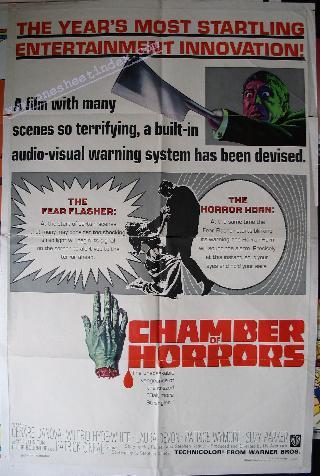 Member login required.