Baron Blood


1972 Elke Sommer

Curvaceous Elke Sommer was able to enjoy all the famous Viennese pastries she wanted without fear of amassing poundage when she worked in the American International release, Baron Blood a horror film which opened in 1972. Filming in an ancient castle on the outskirts of Vienna, Miss Sommer was able to relish the cuisinary delights of the district because any calories she absorbed were quickly burned off before the cameras running for her life from the spine chilling pursuit of the film's villian. The story describes the fearful events which ensue when a notorious sadist of the 18th century is recalled from his grave to seek new victims among modern day citizens. Needless to say, he shows good taste and selects Elke as a prime target, setting off a chase which has her dashing full tilt through a good part of the film. After racing up and down spiral starcases in the old castle, Miss Sommer barely has time to catch her breath when the vicious old torturer sweeps in again at the attack

and she must he off, tearing through the fog shrouded streets of the town. Appearing in the title role, Joseph Cotten portrays the dastardly old baron zeroing in on Elke with all the dramatic intensity thirty years of acting can provide. Sharing the cast honors with them are internatonal stars including Massimo Girotti, Antonio Cantafora, Humi Raho and Rada Rassimov. Produced by Alfred Leone, the American International release was directed by Mario Bava from a screenplay by Vincent F. Fotre.

Although such memorable film classics as "Citizen Kane," "Shadow Of A Doubt," "The Magnificent Ambersons" and "Journey Into Fear" highlight the career of Joseph Cotten, the veteran film star has no fixed criteria for the roles he wishes to play except that they entertain. Of late, Cotten has entered into a series of films in the horror category. The latest example in this direction is Baron Blood. Co-starring with Elke Sommer, he portrays a sadistic 18th century baron who is recalled from his grave to make life miserable for the villagers of today with his penchant for foul murder and torture. Last year, Cotten appeared opposite Vincent Price in "The Abominable Dr. Phibes," also released by American International. Cotten sustained his reputation with many popular hits, notably "Duel in the Sun," "The Farmer's Daughter" and "Weep No More." And there was the unforgettable "The Third Man." His work has never lacked distinction even when during the 1960's he played in some undistinguished films. Born in Petersburg, Virginia, Cotten's first big success was on Broadway in "The Postman Always Rings Twice." A meeting with Orson Welles led eventually to his joining Welles' Mercury Theatre (Vincent Price worked there too). On Broadway he starred alongside Katherine Hepburn in "The Philadelphia Story." In Baron Blood he shares acting honors with an international cast including in addition to Miss Sommer, Massimo Girotti, Antonio Cantafora, Alan Collins, Humi Raho and Rada Rassimov. Produced by Alfred Leone, the film was directed by Mario Bava from a screenplay by Vincent G. Fotre.
Item Details:
1-Sheet 27x41 Folded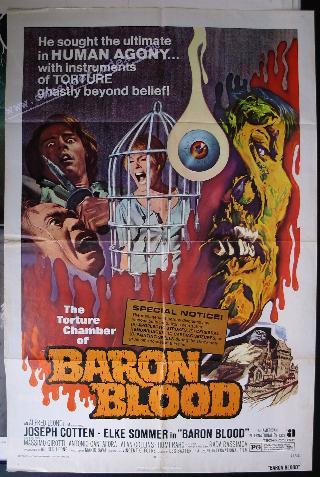 Member login required.