Fathom


1967 Raquel Welch

Production Notes for Fathom


Taking part in a Spanish aeronautics show is star member of an American sky-diving team, Fathom Harvill (RAQUEL WELCH) makes a spectacular jump and as usual is surrounded by the press. She is also unwittingly hijacked off into a whole heap of trouble by a slim, young Englishman called Timothy (RICHARD BRIERS).
He introduces her to a man he calls his 'chief' -- Douglas Campbell (RONALD FRASER) -- a strange, battle-scarred Scotsman who explains that he is head of a top security branch of NATO Intelligence. With the disarming feasibility of a particularly skilled exponent of his "game," Campbell persuades her to join them in thwarting two separate teams of foreign agents. The "race" is to recover a nuclear device trigger mechanism coded "Fire Dragon" lost in the Mediterranean out of a crashing nuclear bomber.
The webs are woven and the patterns change with bewildering complexity until Fathom is almost more concerned with establishing on whose side she ought to be than with recovering the

wretched object. To begin with, it isn't long before she discovers that she is chasing not a top secret nuclear device, but a figurine opulently encrusted with fabulous precious stones.
At one time or another she strongly suspects she ought to be helping Campbell and Timothy.. .the too-handsome Peter Merriweather (TONY FRANCIOSA) and his gorgeous Oriental "Girl Friday" Jo-May Soon (GRETA CHI)...rugged adventurer Mike (TOM ADAMS) who is on everybody's side for his own sake...or Serapkin (CLIVE REVILL), the weird millionaire Armenian whose blood forever runs cold ...



With the sensational Raquel Welch in the title role co-starring with Tony Franciosa, ''Fathom,'' 20th Century-Fox's action-adventure drama, opened in 1967
in CinemaScope and DeLuxe Color.

20th Century-Fox acquired film rights to a new series of thriller novels by British author Larry Forrester, whose central character is the glamorous and adventuresome Fathom, an international heroine engaged in both counterespionage and the war against organized crime.

The first of these novels is to be published by Will iam Heinemann, Ltd., London. However, 20th Century-Fox is introducing Fathom to the screen in a film based on Forrester's second book -- "Fathom Heavensent" -- which is still in the draft stage. The reason for starting off the film series with Forrester's second book is that its story involves the dangerous and spectacular sport of skydiving, which is rapidly gaining popularity throughout the world, and particularly in the U.S. and Britain. Lorenzo Semple, Jr. wrote the screenplay for the picture.

Fathom was produced by John Kohn and directed by Leslie Martinson in and around Malaga on Spain's Costa del Sol.

Miss Welch and Franciosa share stellar honors in Fathom with Ronald Fraser, Greta Chi, Richard Briers, Tom Adams and Clive Revil].



Item Details:
b2 Japanese Hansai 27x41 single-sided folded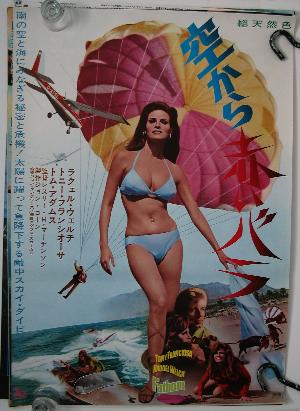 Member login required.