Vittorio De Sica's Woman Times Seven, the 1967 Vittorio De Sica Italian/French/U.S. sex comedy ("It's as naughty as a pink lace nightgown, as delicious as a piece of gossip, as sharp as a shot of wry, as rare as a stroke of genius, it's 'Woman Times Seven'"; "The most exciting idea a man ever had for a motion picture!"; "Shirley MacLaine as she connives with Alan Arkin, carouses with Rossano Brazzi, deceives Michael Caine, taunts Vittorio Gassman, and darn near kills Peter Sellers") starring Shirley MacLaine, Alan Arkin, Rossano Brazzi.
Item Details:
b2 Japanese Hansai 20x28.5 single-sided folded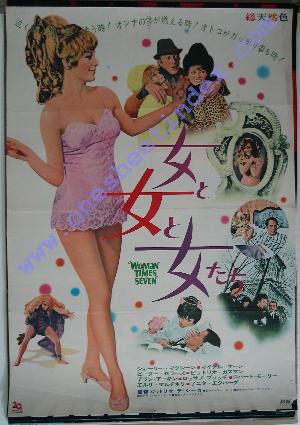 Member login required.