With a rough plan of El Condor's location in the forbidding

Mexican desert, Luke allies himself with Jaroo (LEE VAN CLEEF), a con-man and small-time operator, who promises Luke 100 Apaches in exchange for half of the gold. Santana (IRON EYES CODY), chief of the Apaches, is approached by Jaroo and agrees to supply the men in return for arms and horses. Santana is not told about the gold.

Undismayed by his motley crew of ill-armed Apaches or by the devious wiles of Jaroo, Luke tracks across miles of desert, obsessed with the idea of finding and conquering the fortress and taking the treasure for himself.

Eventually, the fortress of El Condor is reached, and the real adventures of the intrepid travelers begin. Inside the fort, Chavez keeps his mistress, the beautiful but unscrupulous Claudine (MARIANA HILL). Luke's open admiration for Claudine after he and Jaroo get inside the fort, results in Chavez having them staked out to be blinded under the merciless Mexican sun.

Escaping, Luke and Jaroo kill their guards, while others are amusing themselves by raping women in the local village. Using their victims' uniforms, they get back into the fortress and blow up the water tower. Chavez is forced to ask for a truce.

Jaroo, sent to negotiate, double-crosses his partner by accepting one wagon-load of gold bars, horses and wagons for the Apaches and two hidden bars for himself. Luke refuses to compromise. He and Jaroo fight and then discover that Chavez has outsmarted them both; the wagon contains gold-coated bars made of lead.

Luke, who still likes Jaroo although he knows he is untrustworthy, works out a new plan. The Apaches, with spiked boots, scale the walls of El Condor at night. This is observed by Claudine, who not only does not give them away, but puts on a spectacular strip-tease show in her bedroom which distracts the guards and enables the invaders to surprise and kill them as they watch. The arsenal ~s blown up and the garrison is slaughtered as Chavez, with a few officers, makes his escape.

Claudine stays behind, having fallen in love with Luke's strength and daring.

Luke, Jaroo and the Apaches celebrate their victory in their own fashion. Luke and Claudine make love; Jaroo sits in the vaults brooding over the treasure, and the Apaches get drunk. Santana, who accidentally discovers the gold, is killled by Jaroo. The following morning, when the chief's body is found, the Apaches decide that all agreements are null and void. They ride out of El Condor with all the horses and wagons laden with rifles, ammunition and other loot. For once, the Indians come out on top.

Luke, Claudine and Jaroo find themselves in possession of El Condor and its treasure, but with no means of taking it away. Chavez returns with more troops and Luke walks out alone to meet him. In order to prevent further bloodshed, Luke and Chavez agree to a duel; Chavez, commanding the troops, will retire if he is defeated. They fight and Chavez is killed. Luke, badly wounded, goes back to El Condor, knowing that the time has come for a show-down with Jaroo, who is killed in the subsequent gunfight.

Triumphant, Luke seems unaware of the irony of the situation. He has captured the fortress which has obsessed him for so long, but he has also fallen in love with Claudine. What matter if he cannot take the gold away? Or, indeed, what matter if there is no gold?




Item Details:
pressbook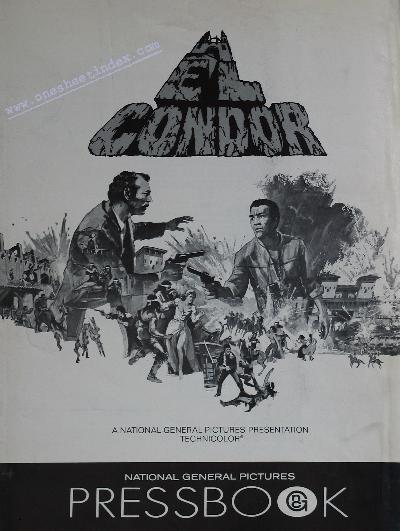 Member login required.
CAST

Luke .......................... Jim Brown
Jaroo .......................... Lee Van Cleef
Chavez .......................... Patrick O'Neal
Claudine .......................... Marina Hill
Santana .......................... Iron Eyes Cody
Dolores .......................... Imogen Hassall
Old Convict .......................... Elisha Cook, Jr.
Colonel Aguinaldo .......................... Gustavo Rojo
Aguila .......................... Florencio Amarilla
General Hernandez .......................... Julio Pena
Lieutenant .......................... Angel Del Pozo
Julio .......................... Patricio Santiago
Prison Guard Captain .......................... John Clark
Indian .......................... Raul Mendoza Castro
Officer .......................... Rafael Albaicin
Guard (Convict Camp) .......................... George Ross
Chief Mexican Bandits .......................... Ricardo Palacios, Charles Stalnaker
Mexican Bandits .......................... Carlos Bliavo, Dan Van Husen, Peter Lenahan
Convicts .......................... Art Larkin, Per Barclay


CREDITS for El Condor
Produced By .......................... Andre De Toth
Directed By .......................... Jorn Guillermin
Screenplay By .......................... Larry Cohen, Steven Cababatsos
Story By .......................... Steven Cababatsos
Director Of Photography .......................... Henri Persin
Production Designed By .......................... Julio Molina Juanes
Film Editors .......................... William M. Ziegler, A.C.E., Walter Hannemann, A.C.E.
Production Supervisor .......................... Eva Monley
Unit Production Managers .......................... Vincente Sempere, Robert Wans, Ivo Nightingale
Assistant Directors .......................... Torcy Tarruella, Russell Vreelaim
Set Decorator .......................... Enrique Fernandez
Sound .......................... Paddy Cunningham
Camera Operator .......................... Gilles Bonneau
Special Effects .......................... Kit West
Property Master .......................... Gm~N&M Sumner
Make-Up Supervision .......................... Ramon De Diego
Hairdresser .......................... Josefa Rubio
Wardrobe .......................... Tony Pueo
Titles By .......................... Pacific Title & Art Studio
Music Composed & Conducted By ............. Maurice Jailer
Second Unit
Directed By .......................... Tap Canutt, Albert Carriff
Director Of Photography .......................... Francisco Sempere

A National General Release

Westrex Sound
Color By Technicolor
Running Time: 102 Minutes