recalled Schneer. "Petra, with its rose-colored cliffs, rock tombs and classic Egyptian and Greek architecture, was perfect."
As the first motion picture permitted to film in Jordan since "Lawrence of Arabia," "Sin-bad and the Eye of the Tiger" merited a personal visit from King Hussein. "When the King arrived, he learned that one of our hairdressers was suffering from heat exhaustion," said Schfleer. "He insisted on flying in his wife's personal hairdresser to substitute." (Aside from its use as an ingredient in hair spray, oil was never mentioned.)
Jordan seemed the logical place to cast the belly dancers needed for an opulent banquet scene. But it wasn't until the production moved to Malta that director Wanamaker found the girls he was looking for. One was discovered in "The Pharoah's Den," a nightclub decorated in the style of a Bedouin camp, outside the Maltese resort of Salina.

The film's casting director hoped the sloe-eyed beauty would have a sufficient command of English to realize he was making a serious offer rather than a pass. But language proved no barrier. She promptly identified herself as Candice Tattersall, nineteen years old, from Leicester, England, where she'd studied tap and acrobatic dancing as well as the navel maneuvers of the East.
Malta also provided a setting for Sinbad's sallies into storm-tossed, monster-infested waters. At the island's nationally owned film studio is the "biggest bathtub in the world," a tank four hundred feet long and three hundred feet wide, with an inner channel seven feet deep, containing 3 ½ million gallons of sea water.

"It has everything," extolled Wanamaker. "Wind machines, fog machines, wave makers and underwater camera tracks. Best of all, it sits above the level of the ground to match the horizon of the Mediterranean Sea."
Most difficult logistic problem was finding a frigid backdrop for Sinbad's climactic assault on Hyproborea, "beyond the north wind, at the end of the world." There, Sinbad encounters a nine-foot tall, ape-like abominable snowman known as a troglodyte, or simply "Trog."
The sequence was filmed in Picos de Europa, a remote region high atop the Pyrenees Mountains, where glacial ice formations and snow-covered peaks last all year round. However, one arctic sequence - involving Sinbad's struggle with a huge prehistoric walrus - required more technical equipment than the company could transport to the desolate Pyrenees locale.

It became necessary to return to Malta, where the special effects department took over a one time RAF airfield and transformed it into an "ice-flow," stretching as far as the eye could see.
"There was only one problem," recalled Patrick Wayne. "Malta was sweltering in the midst of a 100-degree heat wave when we shot the scene. So, there I was, battling the beast in a fur-lined parka, hood and boots. I'm in good shape, but there were several times I thought I'd keel over from the heat."
Standing to one side of the "frozen" waste were actresses Jane Seymour and Taryn Power - fetchingly clad in bikinis - waiting to slip into their furs and join the fray.
Next, the troupe moved on to Spain where an eight-hundred-year-old synagogue in Toledo served as the site for a Caliph's coronation, and the ancient walled city of Avila "doubled" as the mythical Arabian seaport of Charak.

"It was the most exciting possible way to make this picture," explained Schneer. "As we traveled throughout the Mediterranean, it was as if we were living half in the present and half in the past."



Teaser Storyline for "Sinbad and the Eye of the Tiger"

Sinbad (PATRICK WAYNE) sails into Charak's ancient seaport intent upon seeking permission to wed the Princess Farah (JANE SEYMOUR) from her brother, Prince Kassim (DAMIEN THOMAS), the next-in-line Caliph. Sinbad learns Kassim is yet uncrowned due to a spell cast by the royal pair's step-mother, Zenobia (MARGARET WHITING), a witch. Zenobia wishes her own son, Prince Rafi (KURT CHRISTIAN), to become Caliph and has used black magic to turn Kassim into a baboon. Sinbad learns one person only may have the knowledge to remove Zenobia's spell - Melanthius, Hermit of Casgar. Sinbad and his friends sail for Casgar, where they find Melanthius (PATRICK TROUGHTON) and his lovely daughter, Dione (TARYN POWER). Melanthius and Dione agree to guide Sinbad's perilous voyage to the Land beyond the North Wind, at world's end - there to unlock the mystery of frozen Hyperborea's original inhabitants, the Arimaspi. Through sorcery, Zenobia learns that Sinbad's voyage is to the Pyramid Shrine of Arimaspi and she brings to life her most awesome creation, the Minaton-a giant metal figure - a colossus with the sun's energy. Zenobia and Prince Rafi race Sinbad's group for the Shrine. Zenobia arrives first, but Minaton's energy, used to gain entry into the Pyramid Shrine, is so forceful that falling masonry destroys Minaton and disturbs the Shrine's temperature. When Sinbad's group arrives, Rafi attacks the baboon. In the struggle, they tumble down a stairway and, accidentally, Rafi is killed by his own knife. Due to the Shrine's disturbed temperature, its frozen atmosphere thaws. The Shrine's guardian, a sabre-tooth tiger entombed in ice, begins to shake loose from the last fragments of its ice shroud. The tiger's malevolent yellow eyes flicker open and Zenobia metamorphosises into the tiger; its evil eyes glow with renewed intensity and savagery. It attacks, and a terrifying battle ensues ...



Item Details:
1-Sheet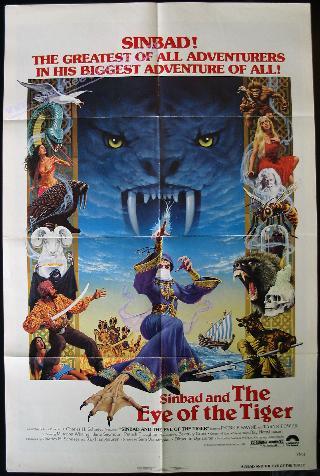 Member login required.